And two etsy shops!


By the way,
I am now taking commissions!
I have a website!
If you're looking for my art, just look here!
If you're looking for my fics, just look here!
I will do original or fanart. I will also make greeting cards. I could be talked into making custom made notebooks. Rather than put up a boring list of things I will or won't draw, you can just contact me so we can talk it over. The exact price will depend upon complexity of the piece.
For examples of my art:
B&W Ink
Watercolours
Lino Prints
Because LJ is being a drag as usual
here's a link to the price guide tables on my website
I thought it was time to put up a commission post with a price guide-line.
You might remember how a while ago
I shared my TARDIS silk scarves with you
. I had been meaning to do some accompanying Dalek silk scarves too. I got carried away with christmas spirit and ended up making quite a few red dalek items in the end. Here they are:
(click on photos to go to my etsy shop)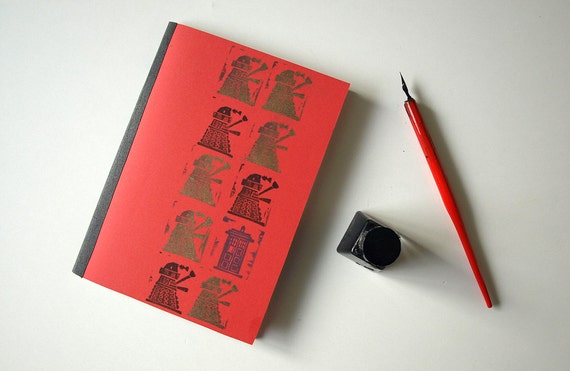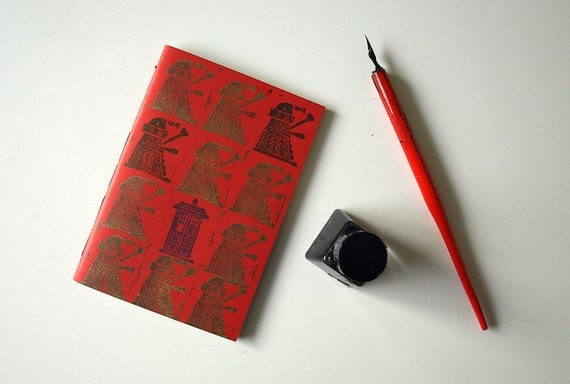 It seems like the kidnaping consensus is that you all want to fatten me up and force me to make art for you.
I must warn you though that you would quickly regret it. I am going through a very rough patch at the moment where I am feeling very miserable, but I have such a backlog of stuff to do that I don't even have time to sit down and try and plan a way out of the mess my life is at the moment.
Instead of applying to jobs, or looking for plane tickets, I spent the day today drawing my
hp_holidays
submission, working on orders for my etsy shop and trying to block print christmas cards. I also cooked two proper meals - from scratch -, did the shopping and talked to a builder about the remodelling of my gran's bathroom that the council is going to pay for. Yes the government continues to shower my gran with money. If only she knew how lucky she was! And on the other hand you have my aunt who is going through chemotherapy for cancer and is not getting payed sick leave for the days she misses because of the shitty contract she has with her work.
Yes, I'm flying off on all sorts of crazy tangents, because I think I'm going crazy.
While drawing and printing I have been having the first season of Lewis - and the famous pilot I managed to find at last - playing in the background. I have seen most of Lewis already, but I thought I'd do it properly this time, in chronological order.
So I looked Laurence Fox up. I turns out he is my age exactly. Only he has a brilliant career, is married to Billie Piper (that threw me for a loop!) and has two kids. Now I feel like a total loser. For how long can I get away with blaming the economic depression and my country's bankruptcy for the mess of my life?
Sorry about the break-down. You are lucky at least that I have spared you most of it.
So there's this kidnaping meme going around. Strange. So hit me. What would you do if you kidnaped me for a day?
(
Work and stuff I've been getting up to
Collapse
)
Today I spent my evening after work getting all my christmas cards for Europe ready to be posted tomorrow. This was by far the biggest lot because it included all my friends and family from Greece. Now I have until the 18th to get the UK ones done!
In other news I am temporarily flirting with a different fandom. It's a small one so it's going to be a very brief dalliance. Every now and then I spend a couple of months lurking in different fandoms. It's for the same reasons men cheat on their wives. You want something new and exciting!
Other fandoms I have lurked around in the past have been Jane Austen (Pride and Prejudice to be exact), Torchwood (all the Ianto fanfic!), Jeeves and Wooster (the slash is practically cannon!), Merlin (hasn't everyone?), Glee (Klaine forever! I'm still lurking there to be honest). I lurk in Sherlock and Doctor Who too, but just for the pretty art and the spoiler updates rather than the fanfic.
(
All about my adventures in the Lewis fandom.
Collapse
)
Hello everyone! I'm been very busy lately. I've been working and going out and doing stuff.
I spent all day yesterday block printing my christmas cards - and I only managed to print half the designs I have worked on - and writing up my envelopes. I discovered that once I count up friends, family and fandom peeps, I have a hell of a lot of cards to send! And what with the people at the post office already knowing me with the amount of post I send for my etsy shop....
Today I have cut up the card-stock for my remaining cards - hopefully to be printed tomorrow - and written up the ones to be sent outside Europe. Today is the last posting day for Asia, the Far East and New Zealand. Next week I'll get started on Europe and then the UK.
If anyone has missed my christmas card post, it's
here
.
I'm going to put up a table of the posting dates mainly for my own reference.
| | |
| --- | --- |
| Asia, Far East, New Zealand | Wed 4 Dec |
| Australia | Thu 5 Dec |
| Africa, Caribbean, Central and South America, Middle East | Fri 6 Dec |
| Cyprus, Eastern Europe | Mon 9 Dec |
| Canada, France, Greece, Poland | Tue 10 Dec |
| USA | Fri 13 Dec |
| Rest of Western Europe | Sat 14 Dec |
| UK | Wed 18 Dec |
I have been running very late, because everything seems to take more time that I estimate it will.
I'm taking a little break to rest my back and to do this meme stolen from
nenne
, because I can't resist lists!
"The Big Read reckons that the average adult has only read 6 of the top 100 books they've printed."
1) Look at the list and bold those you have read.
2) Italicize those you intend to read.
3) Underline the books you LOVE.
4) * Star those you've started and have not and will not finish.
5) Strike through what you consider a complete waste of paper & time.
6) Reprint this list in your own LJ so we can try and track down these people who've read 6 and force books upon them ;-)
1. Pride and Prejudice - Jane Austen
2. The Lord of the Rings - JRR Tolkien
3. Jane Eyre - Charlotte Bronte
4. Harry Potter series - JK Rowling
5. To Kill a Mockingbird - Harper Lee
6. The Bible*
7. Wuthering Heights - Emily Bronte
8. Nineteen Eighty Four - George Orwell
9. His Dark Materials - Philip Pullman
10. Great Expectations - Charles Dickens
11. Little Women - Louisa M Alcott
12. Tess of the D'Urbervilles - Thomas Hardy
13. Catch 22 - Joseph Heller
14. Complete Works of Shakespeare*
15. Rebecca - Daphne Du Maurier
16. The Hobbit - JRR Tolkien
17. Birdsong - Sebastian Faulks
18. Catcher in the Rye - JD Salinger
19. The Time Traveller's Wife - Audrey Niffenegger
20. Middlemarch - George Eliot
21. Gone With The Wind - Margaret Mitchell
22. The Great Gatsby - F Scott Fitzgerald23. Bleak House - Charles Dickens
24. War and Peace - Leo Tolstoi
25. The Hitch Hiker's Guide to the Galaxy - Douglas Adams
26. Brideshead Revisited - Evelyn Waugh
27. Crime and Punishment - Fedor Dostojevski
28. Grapes of Wrath - John Steinbeck
29. Alice in Wonderland - Lewis Carroll
30. The Wind in the Willows - Kenneth Grahame
31. Anna Karenina - Leo Tolstoi
32. David Copperfield - Charles Dickens
33. Chronicles of Narnia - CS Lewis
34. Emma - Jane Austen
35. Persuasion - Jane Austen
36. The Lion, The Witch and The Wardrobe - CS Lewis
37. The Kite Runner - Khaled Hosseini
38. Captain Corelli's Mandolin - Louis De Bernieres
39. Memoirs of a Geisha - Arthur Golden
40. Winnie the Pooh - AA Milne
41. Animal Farm - George Orwell
42. The Da Vinci Code - Dan Brown
43. One Hundred Years of Solitude - Gabriel Garcia Marquez
44. A Prayer for Owen Meaney - John Irving
45. The Woman in White - Wilkie Collins
46. Anne of Green Gables - LM Montgomery
47. Far From The Madding Crowd - Thomas Hardy
48. The Handmaid's Tale - Margaret Atwood
49. Lord of the Flies - William Golding
50. Atonement - Ian McEwan
51. Life of Pi - Yann Martel
52. Dune - Frank Herbert
53. Cold Comfort Farm - Stella Gibbons
54. Sense and Sensibility - Jane Austen
55. A Suitable Boy - Vikram Seth
56. The Shadow of the Wind - Carlos Ruiz Zafon
57. A Tale Of Two Cities - Charles Dickens
58. Brave New World - Aldous Huxley
59. The Curious Incident of the Dog in the Night-time - Mark Haddon
60. Love In The Time Of Cholera - Gabriel Garcia Marquez
61. Of Mice and Men - John Steinbeck
62. Lolita - Vladimir Nabokov
63. The Secret History - Donna Tartt
64. The Lovely Bones - Alice Sebold
65. Count of Monte Cristo - Alexandre Dumas
66. On The Road - Jack Kerouac
67. Jude the Obscure - Thomas Hardy
68. Bridget Jones's Diary - Helen Fielding
69. Midnight's Children - Salman Rushdie
70. Moby Dick - Herman Melville
71. Oliver Twist - Charles Dickens
72. Dracula - Bram Stoker
73. The Secret Garden - Frances Hodgson Burnett
74. Notes From A Small Island - Bill Bryson
75. Ulysses - James Joyce
76. The Bell Jar - Sylvia Plath

77. Swallows and Amazons - Arthur Ransome
78. Germinal - Emile Zola
79. Vanity Fair - William Makepeace Thackeray
80. Possession - AS Byatt
81. A Christmas Carol - Charles Dickens
82. Cloud Atlas - David Mitchell
83. The Color Purple - Alice Walker
84. The Remains of the Day - Kazuo Ishiguro
85. Madame Bovary - Gustave Flaubert
86. A Fine Balance - Rohinton Mistry
87. Charlotte's Web - EB White
88. The Five People You Meet In Heaven - Mitch Albom
89. Adventures of Sherlock Holmes - Sir Arthur Conan Doyle
90. The Faraway Tree Collection - Enid Blyton
91. Heart of Darkness - Joseph Conrad
92. The Little Prince - Antoine De Saint-Exupery
93. The Wasp Factory - Iain Banks
94. Watership Down - Richard Adams
95. A Confederacy of Dunces - John Kennedy Toole
96. A Town Like Alice - Nevil Shute
97. The Three Musketeers - Alexandre Dumas
98. Hamlet - William Shakespeare
99. Charlie and the Chocolate Factory - Roald Dahl
100. Les Miserables - Victor Hugo
So who has only read six? I've read 43. Some of the books in my list I have bought but not read - and they are currently in boxes back in Greece. My big gap in classic literature is the russians. I was always afraid they'd be too difficult and depressing.
I'm in the middle of block printing my christmas cards, because tomorrow is the last day I can post to you unlucky people all the way over in Australia and New Zealand to get it there before Christmas.
Artist:
mayfly_78
Title:
Tangled Up
Pairing:
Harry/Draco 
Rating:
G
Summary:
From prompt: 
Harry is still a Parselmouth and teaches Care for Magical Creatures at Hogwarts, while Draco teaches Potions. Harry has a pet albino python he brings with him everywhere. Even since he confided in his snake about his attraction to Draco, the python coils around them both every time they cross paths, binding them together and refusing to let go.
Warning(s):
snakes!
Media:
India Ink and Watercolour
Disclaimer:
All Harry Potter characters herein are the property of J.K. Rowling and Bloomsbury/Scholastic. No copyright infringement is intended.
Author's Notes:
Done for prompt #63 for 2013's
hd_smoochfest
(
Art Under Here
Collapse
)